Yoko (ヨーコ, Yōko) is a minor character in Fugou Keiji Balance: Unlimited.
Overview
Yoko appears in the first episode as a jewelry robber. It is implied that she is in a relationship with Hiroshi and that they are both affiliated with an illegal syndicate.
Appearance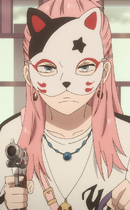 Yoko has light pink hair styled with the top half pulled back into a messy bun and dull blue eyes. She sports many accessories including earrings, two necklaces, a ring, and a pink purse. She is shown wearing a white sweater with black stripes along the sleeves and denim shorts.
During her joint robbery with Hiroshi, Yoko dons a white cat mask covering half of her face that is painted with red and black decorations, identical to her partner's mask.[1]
Personality
Yoko is very headstrong and a reliable partner, agreeing to help Hiroshi rob a jeweler when he blew the syndicate's money on other women.
Throughout the robbery, she takes charge in situations where Hiroshi would hesitate, such as choosing a store to rob. She is aggressive enough to shoot Shinnosuke Kamei so the two could make their getaway.
Synopsis
Yoko and Hiroshi are first seen browsing jewelers, looking for the perfect store to rob. At one store, Hiroshi insists that the guard would be too strong for them. Yoko clutches her purse and says they could take out the guard with whatever was inside of it.
Later, Yoko gets fed up with Hiroshi's dawdling and tries to leave, but he pulls her back and says that he wouldn't have anyone else without her. Yoko then spots a shop with a window marked, "Bridal Fair," believing it to be easy for them to rob given its secluded location and lack of guards.
Upon entering the shop, the two wear half-face cat masks. Yoko threatens the cashier with a small revolver, telling her to put all their money and jewelry in the bag. However, the store clerk tells her that there is no jewelry, since they're a chocolate shop.
Running out of the store, Yoko runs into Motoyama, and, when Shinnosuke confronts her, she shoots him in the chest with a paint bullet. Yoko and Hiroshi take a white van that has its keys in and unknowingly drive away with the bomb.
Throughout their getaway, the two question why so many police cars are chasing them. They encounter the odd traffic light system, but Yoko manages to drives the van onto a bridge. However, to her and Hiroshi's dismay, the bridge starts raising and separating. Hiroshi desperately tells her to start backing up, but Daisuke Kambe suddenly rams his AC Cobra into the van, preventing them from going down. As the van scrapes along the sides of the bridge, Hiroshi apologizes to Yoko and makes his escape and a frightened Yoko curses him, promising to kill him. Seeing the panicking Yoko, Haru Kato jumps out of Daisuke's car and takes control of the van's steering wheel as he tells her to get out.
Nine seconds until noon, Yoko escapes the van which promptly dives into the river and explodes. As the spray of the explosion ceases, Hiroshi is seen waiting at the bottom of the bridge and pulls Yoko into a hug. The two make up, as Yoko's ring flashes in the sunlight.
Relationships
It is implied the Hiroshi and Yoko are in a relationship. Hiroshi says that Yoko is the only person he has. While the two are practically opposites, they regulate one another, Yoko being assertive and Hiroshi ensuring that she doesn't do anything too rash.
Throughout the first episode Hiroshi continues to strain their relationship, first by annoying Yoko with his indecisiveness, then later by leaving her to be thrown in the river. However by the end of the episode it is clear that the two love and find comfort in each other.
Trivia
References